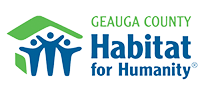 HOW IS HABITAT FOR HUMANITY DIFFERENT FROM BANKS OR OTHER HOUSING ORGANIZATIONS?
Habitat,
Gives a helping hand up not hand outs,
Builds new houses and renovates existing homes only in Geauga County,
Does not build houses FOR families but WITH them as it builds relationship and community,
Uses volunteer labor to help keep the cost of Habitat homes affordable.
Often holds the no interest mortgages on the homes,
Follows the Biblical principle of charging no interest.
Builds energy star rated homes to help keep costs down and be earth friendly by reducing energy use,
Seeks families who will work hard with others to reach their dream of home ownership,
Strives to be guided by and to model Christian principals.
GETTING STARTED:
Families must attend a Habitat Family Selection Orientation Meeting before making out an application. All information is explained in detail at the meetings, which are held throughout Geauga County several times a year. For upcoming meetings please contact Habitat at 440-564-5848, or email [email protected] Visit our website regularly for updated information.
THE APPLICATION:
At the Orientation Meeting families will receive an application. Filling out the application truthfully, attaching all support documentation and returning it to the office by the deadline date will help ensure a family that their application is considered.
QUALIFYING CRITERIA
Families must first meet 3 qualifying criteria:
1) NEED
2) ABILITY to PAY
3) WILLINGNESS and COMMITMENT TO PARTNER with GCHFH
NEED
Is based on living conditions that are overcrowded, structurally unsafe, rent burdened, or that do not meet special needs of family members all determine need
Need is also identified by applicants who are not be able to secure a home mortgage loan outside of the Habitat for Humanity program.
ABILITY TO PAY
A family must have income to pay for all expenses related to owning a home.
The Area Median Income for Geauga County is used to qualify income
Monthly housing expense (mortgage principal, taxes and homeowners insurance) must not exceed 30%
of the gross monthly income.
Total monthly expenses must not exceed 38% of the gross monthly income and includes paying all debts
Monthly mortgage payments include mortgage principal, taxes and insurance and average about $500-$700
Bankruptcy and deferred loans are considered in the process.
All liens and judgments must be paid before signing a Habitat mortgage.
Habitat works with families on budgeting, reducing debts thus increasing credit scores.
WILLINGNESS & COMMITMENT TO PARTNER
Sweat equity requirements ensure that Habitat builds up people and communities in addition to building houses.
If a partner family member is physically unable to work on construction there are many other areas in which the
sweat equity hours may be earned.
500 hours of sweat equity is required for a new home build, and minimum of 250 sweat equity hours are required to renovate an existing house. Extended family members and friends can help to complete the sweat equity requirements. Habitat supplies a long list of approved activities for every member of the family to help
Earn sweat equity hours which includes, but is not limited to, working on construction sites, Office work, all aspects of fund raising and community events, etc. as family members become wonderful ambassadors of the Habitat for Humanity program.
HOME INTERVIEWS
Members of the Family Selection Committee will meet with families who have met initial application requirements.
WHEN THE APPLICATION PROCESS IS COMPLETED:
The Family Selection Committee either notifies the applicant of why their application was rejected
or recommends the applicant to the Board of Trustees for approval as a provisional partner family.
Non -qualifying families may re-apply when their circumstances change.
APPROVED FAMILIES
The approved family is assigned a Family Support person to help them through the entire process
As they continue to meet the requirements of the program. Qualifying for a Habitat for Humanity home
does not end with an approved application. All information is considered confidential.
FREQUENTLY ASKED QUESTIONS
Do Habitat families have to pay for their house?
Yes, and go far beyond what other families are required to do with conventional loans! Habitat families must
Be able to pay their monthly mortgage payments and all other expenses related to homeownership on time.
Spend hundreds of hours completing sweat equity hours requirement in a timely manner
Attend budget and homeownership workshops and work with their support person on a regular basis.
How long does it take for a new house to be built?
Once the house is started, weather permitting, it takes about 27 weeks, working mainly on
Wednesdays and Saturdays to build a home. Approximately 180 volunteers are needed to plan, fund,
and build each Habitat house.
How long does it take to renovate an existing house?
This totally depends on the condition of the home and of course the weather!
Habitat for Humanity is a nonprofit Christian organization working to break the cycle of poverty,
one home at a time in Geauga County. Habitat offers opportunity, not charity.
12180 Kinsman Rd. P.O. Box 21 Newbury, OH 44065 (Located on Rt 87 just West of Rt 44)
Content non-binding and subject to change. Please call our office for most up-to-date information: +1.440.564.5848.